Enhancing the ambiance of our departure from Monster Mania was the gray skies, rain, and my fogged up windshield. I couldn't have asked for a more picturesque day. The sun is nice once in a while, but for this type of weekend, I prefer it to be a horror movie outside. If you've been reading along you know there's a few more stops to make before heading home. Where we're going we don't need Google Maps…actually, wait, yes we do. Shit, why did you throw the GPS out the window? Pull over.
It may sound pretty generic, but my first stop was the Cherry Hill Mall. The mall was only a few minutes from Monster Mania so it would've been a crime not to stop there. Shannon from Mallrats ™ wouldn't have any reason to criticize me because I actually did have a very specific shopping agenda. I wasn't going to buy men's slacks, nor was I looking to get some junk jewelry and scrunchies from Easy Pickins. Nope, I was there for refreshment of the liquid type. Matt and Ms. X had no clue what the hell I was up to.
I must've driven around the entire mall 12 times before I finally settled on a entrance tucked away in a corner. Naturally, this entrance couldn't have been further from our eventual destination within this "monument of consumerism" (Mallrats ™.) I can't help myself with the Mallrats references, I'm already getting excited for the sequel.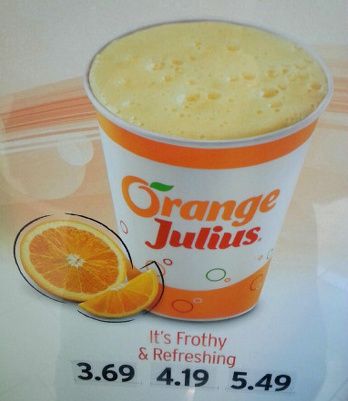 For the last several months, I'd been overcome with an insane craving for an Orange Julius. The problem was that there's no Orange Julius places near me. There's a Dairy Queen nearby, the company that owns them now, but I really wanted an Orange Julius from a standalone Orange Julius store, is that too much to ask? Getting an Orange Julius from a shop that's solely a Dairy Queen is like getting a Dole Whip any place that's not Disney World.
The mall by me had and Orange Julius for as long as I can remember, but it closed down several years back and millions of voices suddenly cried out in terror. This was devastating and I haven't been able to indulge in one in a long time. I remember my mallrat days and there wasn't a mall visit that went by when I didn't have either an Orange Julius or an ICEE in hand.
Man, things have changed. It seems like all the good shit has to be 5 thousand miles away nowadays (we took quite a trip just to get Ghostbusters donuts the morning they came out), so incorporating the satisfaction of my craving into the MM weekend worked like a charm. And now, behold, the greatest photo you will ever see of an Orange Julius sitting on top of a trash receptacle in Cherry Hill Mall. Its a very specific genre of avant garde photography. I'm presently teaching a lab course on this at The Learning Annex.
After my tastebuds took part in a delightfully euphoric makeout sesh with that creamy orange goodness, it was onto the next stop, all while obnoxiously sipping an empty cup thinking some extra Julius would magically get sucked up through the straw. It wouldn't be right if we didn't make our way to at least one flea market on this trip. After the sad news about The Columbus Flea Market, which we visited last time, I felt that we should drop into another popular Jersey flea market.
I wonder if Ivannah with the 3rd nipple was doing the psychic readings in that room back there?
Surprisingly, I've lived in New Jersey my entire life and had never been to the Collingwood flea market. History was about to change. With the rain, we didn't get to experience the outdoor vendors, although the inside had old school superhero murals on the wall that had clearly been neglected and covered up over the years. They might have been the most intriguing thing about this place for me.
We also stopped into a comic shop within the market which sort of reminded me of the vibe of a comic store I used to go to at the old US1 Flea Market.
From what I saw, the Collingwood market isn't as eclectic as Englishtown, nor as amazing as Columbus was, yet still a worthwhile stop if you happen to be in the area. #Undertak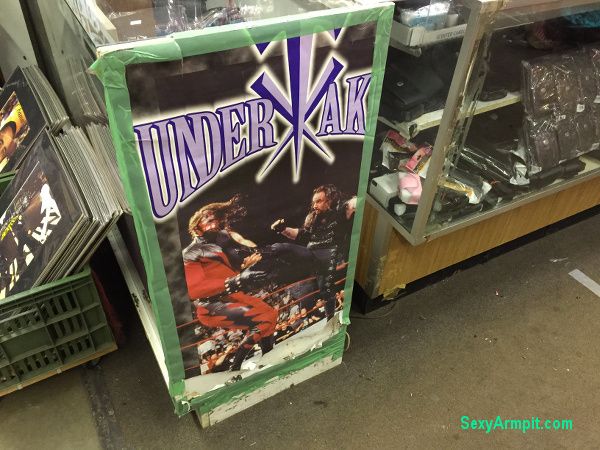 Have you had enough? You can't tap out just yet, there's one more detour to make before we get home: Zapp Comics in Manalapan. This was my first time at this shop and it was awesome to see that they offered such a wide selection of new comics, back issues, action figures and collectibles. It's where Matt picked up Odious Ogre from Dungeons and Dragons. There's something awesome about a store who has tons of used action figures in plastic Ziploc bags neatly stocking the pegs. Makes them feel brand new, even though they are not MOC or MIP. They are OPP, but not BBD.
After all this blousing, I mean browsing, we were starving. Turns out that an Orange Julius won't carry you through all day, so it was time to eat.
But, hell, why not cram in one more thing before we finally shoved food in our bellies. It was my birthday a few days prior and I still had a present to open from Matt. I may have been secretly waiting to open it to extend my birthday weekend that much longer. It wouldn't be a gift from Dinosaur Dracula unless it was awesomely nostalgic and this took me back to when I was a kid playing Sega Master System on my mini wooden rocking chair.
Behold, ALEX KIDD in Miracle World. One of my favorite Master System games of all time and Sega's answer to Super Mario well before Sonic the Hedgehog became synonymous with Sega. Thanks to Matt for the trip down memory lane. Once I'm through posting this I'm going to punch the shit out of rocks with my hysterically giant fist.
Eventually, we decided to eat at a Mexican place called
Salsarita's
in Old Bridge. At the time, I had no idea that this was a huge chain. Ordinarily, I make every effort to go to Mom and Pop restaurants because they are usually the hidden gems, but it didn't matter because I inhaled the food anyway. We were only halfway through our meals and it looked like someone bombed our table with exploding tacos, rice and beans and salsa and chips. It was delicious. The food at this place edges out Chipotle and they also get points for embracing the Mexican cantina atmosphere in contrast with the very basic look of the interior of Chipotle. If you'd like to discuss this in more detail, pick up my new informational pamphlet all about my thoughts on Interior Design in fresh Mexican food chains, it's called
LET'S TALK ABOUT MEX BABY!
You've finally made it to the end of our Monster Mania extravaganza. It was quite an elongated account of what really only amounted to the span of Friday night into Saturday afternoon, but reliving it through this post extended the fun even more! Thanks for reading.