Over the Labor Day weekend in Parsippany, NJ the 30th annual Lead East Car Show took place at the Hilton hotel. It's an event that I've heard so much about and have been meaning to go to for a long time, and this year I finally went and I'm glad I did. Read on for a recap and at least two references to Cameron from Ferris Bueller's Day Off.
Held annually in New Jersey, Lead East is the biggest car show in the state, or as they bill it, "the Biggest old car event" and the "Biggest '50s Party," and let me tell you they ain't kiddin'! In addition to over 1,800 vintage and custom cars from over 20 states, Lead East offers concerts, parties, costume contests, food, collectibles for sale, movies playing drive-in style, karaoke, a prom, a sock hop, swing dancing, and of course, some good old fashioned cruising. With all that stuff going on, you don't even need to be a hardcore fan of cars or the '50s. It's a chance to enjoy a fun day out with the whole family, and even the dog. There's lots of folks who set up shop with tents for the whole 5-day stretch. One of those couples was nice enough to have myself, my father, and his friends at their tent for drinks and food which was awesome, especially the chance to get out of the blazing sun for a while.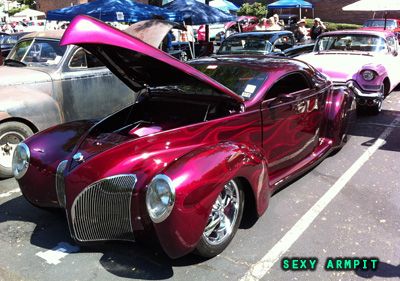 Playing with Hot Wheels was one of my past times as a kid, but as I grew up I wasn't much a gear head. I changed a tire once, but I can't really tell you what's what under the hood of my car. I do love looking at cars though, and driving them, especially the few all-time favorites of mine. I enjoy going to car shows like this in hopes of seeing my favorites and some of the rare cars that I had no idea existed. That's where Father Armpit comes in. My Dad knows every freaking car imaginable and what year they came out.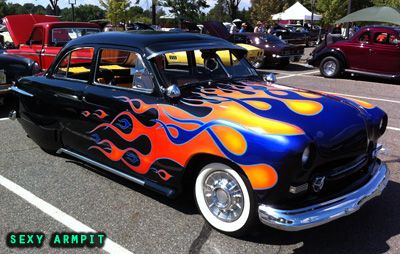 My Dad merely needs to glimpse a car for a split second and he can spew out all it's details. Going with him to car shows is fun because he's so enthralled by them. So many of the cars we saw (and studied) at Lead East hold special memories for him. He could tell you every car he ever owned, my uncle's first, second, third, and fourth car, and even which cars were purchased by a few celebrities. It's like putting me in a KISS or WWE museum. I'd never come out. I'd be staring at everything as if I was Cameron Frye at the Art Institute of Chicago. And even though I'm not as fanatical about cars as my father is, I still had a blast.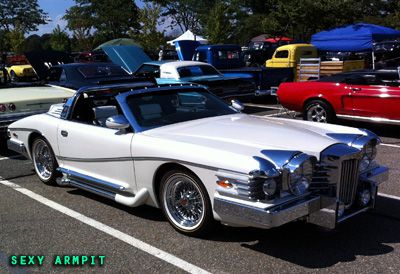 Stutz – this model was owned by members of The Rat Pack
Although Lead East is a '50s inspired car show, I had a hunch that I'd be seeing at least ONE of my '70s favorites. In fact, almost as soon as I walked into the show I walked right up to my all-time favorite car, a 1973 Mustang Mach-1. The color wasn't my preference, but that wouldn't stop me from taking it for a spin or rubbing it with a diaper (like Cameron Frye's dad does!). If you're into '70s cars like me, we're all in luck – the Lead East website states that they have started to allow later model cars in the show on the Sunday installment of the show including 1976 models and earlier. It's possible that each year they may let accept later models.
Remember the "Greased Lightning" sequence in Grease? That's what some of the cars reminded me of. But what was more amazing than all the crazy custom cars and all the little events they had going on at Lead East, was watching these guys and gals relive their high school days. The sight of a car can elicit such glows on people's faces. The guys started to Remem-mem Rememmemmeber the first time they "parked" with their girlfriend, the first time they raced their car, and the first time they puked in their friend's back seat. The Back to the Future DeLorean wasn't there this year, but the thousands in attendance didn't need it since the event itself was a time machine.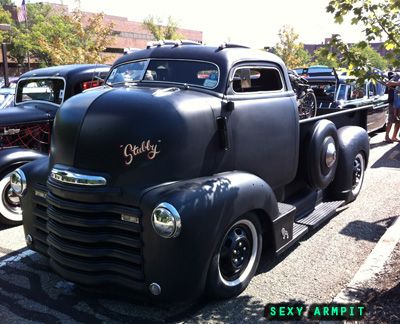 This truck reminded me of something out of Disney's CARS