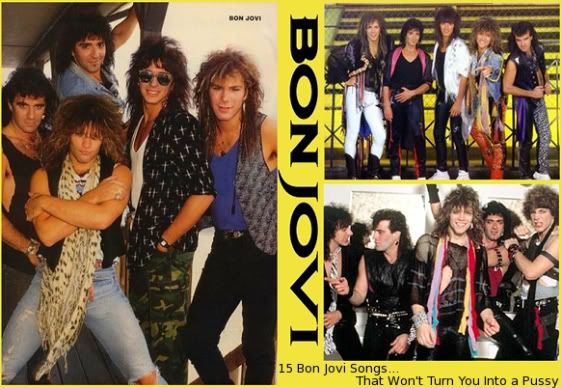 When We Were Beautiful sounds like a coffee table book featuring photographs comparing and contrasting female senior citizens with glamorous photos of them from 50 years earlier. When I first heard that Phil Griffin 's Bon Jovi documentary, that recently premiered at the Tribeca film festival, and the upcoming book with the same name (slated for Fall '09 through Harper Collins), was to be called "When We Were Beautiful," I seriously almost puked.
In case the folks at Harper Collins read this, here are a few of my top choices for new titles for the book:
1) When We Were Ballsier
2) Back When We Had Some Degree of BALLS!
3) When We Were a Band Who Wouldn't Ever in a Million Years Think of Releasing a Book With a Name as Ghey as "When We Were Beautiful"
4) This Left Never Felt Right in Any Way Shape or Form, You Know What, As a Matter of Fact, Just Stop Making Turns Altogether!
Combining such a weak book title with albums like Lost Highway, Bon Jovi has certified that the band they were in the '80s has officially been put to rest. I'm constantly hoping, secretly of course, that Bon Jovi will finally return to their rock roots and unleash an album for guys. Songs like "Wanted Dead or Alive" and "You Give Love a Bad Name" are songs that guys could rock out to because they're bold and written from a guys point of view.
Age 4 through age 9, I prided myself on being a Bon Jovi fan, along with other rock bands like KISS, Motley, GNR and Poison. It was OK to like Bon Jovi even if you were a guy, in fact, being from Jersey even gave you street cred by association. For the past 15 years or so, that hasn't been the case, even though Bon Jovi has enjoyed continued success from hit singles to blockbuster tours. Unfortunately, now, all they do is coddle their 40-something female fans dying to jump some Jovi ass. Sometime around 1992, every guy who liked Bon Jovi started to get persecuted for being a fan. Some blame the onslaught of Grunge, but after years of contemplation, I could tell you that Jon Bon Jovi is to blame for the whole problem.
If Jon Bon Jovi was born just a little bit uglier, oh say…more Lemmy looking, we MALE Jovi fans would have our freakin' Jersey ROCK back. Once JBJ realized that the key to his goldmine was singing songs to wives, fiances, daughters, and girlfriends all around the world, his musical mission became melting hearts and not our faces. Dude's 47 and women still have coronaries when he hits the stage. Dude does spirit fingers and women go into cardiac arrest. Important tip for guys: don't do spirit fingers…ever…it won't work for you. Unless you've sold 120 million albums worldwide and have appeared on Oprah, girls will not like it if you do spirit fingers. Dude kisses random women in the audience while their husbands stand beside them, faces glowing with a shit-eating grin. How many guys' wives can you go up to, grasp their arms, and plant a nice big kiss on without their psycho hubby's attempting manslaughter on you? Jon Bon Jovi can do that kind of shit.
Picture it: The summer is here. You're cruising around town in your newly washed car. The light turns red, you have to stop. Your music is blasting, but wait! Oh shit! Your windows are down! You can't let anyone hear what's playing on your stereo! Don't get nervous, you need not worry. Just load this playlist onto your iPod and you'll be fine. While I can't guarantee you won't get made fun of for listening to Bon Jovi, you'll definitely have less of a chance of being accused of having a vagina by the guy in the monster truck blasting Slayer's "Angel of Death." Don't be afraid to crank up your car stereo because listening to Bon Jovi does not have to be an emasculating experience. – The Sexy Armpit: Helping to Keep the Jovi schmaltz to a minimum.
Click here to check out this playlist on iTunes!
15) King of the Mountain, 7800 Fahrenheit (1985) – This chest pounder will make you feel like you're on top of the world. "Boss man says, 'Hey boy, you'll never be no good'…Tonight's the night they can't put you down, no one could."
14) Hook Me Up, Bounce (2002) – It's ridiculous that I'm writing a post about Bon Jovi veering too far away from their hard rock roots while critics ravaged Jovi's half-hearted hard rock comeback album, Bounce. "Hook Me Up" opens with the line "Hello, is there anybody out there?" Not only is this similar to the line that kicks off "We Got It Goin' On," from Lost Highway, "Is there anybody out there looking for a party," but also reminiscent of when Bruce Springsteen begs the question of his listeners "This is Radio Nowhere, is there anybody alive out there?" in the first track of his '07 album, Magic. The underrated "Hook Me Up," has a bleak, foreboding quality rarely heard in Jovi songs.
13) Blood on Blood, New Jersey (1988) – By far this is the "Bruciest" Bon Jovi song ever. In the vein of Springsteen and other Jovi songs, "Blood on Blood" tells a story using names and places: "Danny knew this white trash girl, we each threw in a ten, she took us to this cheap motel, and turned us into men."
12) We Rule the Night, 100,000 Bon Jovi Fans Can't Be Wrong (2004) – Thanks to it's menacing swirl of rising and falling guitar sounds and trancelike drum beats, this reject from '85 is easily one of the coolest finds on Bon Jovi's box set of unreleased material, demos, and alternate cuts. The lyrics make the song sound like it could have been on the soundtrack to The Lost Boys or The Warriors: "No one can save you, there's nothing to say, Deception's the name of the game" The "Whoa-Oh's" sound like the precursor to those in "Livin' On a Prayer."
11) I Believe, Keep The Faith, (1992) Bon Jovi used to incorporate this song into their concert set lists but has rarely been performed as of late. It's one of their most hard rocking songs that rises to immense proportions. Lyrically, "You and Me Can Turn a Whisper To a Scream" recalls the title of The Icicle Works' hit "Birds Fly (Whisper to a Scream)."
10) Breakout, Bon Jovi (1984) Back in the day, Bon Jovi wrote songs that were all about being lied to and getting fed up with the deceptive hoebags that they were dating: "Your lies can't hide what I see, I'm better off on my own." The band's mega success and bagging chicks like Diane Lane and Heather Locklear seemed to have squelched their scornful sentiments rather quickly.
9) Social Disease, Slippery When Wet (1986) – "You can't start a fire without a spark" was ripped straight from Springsteen's "Dancing in the Dark" and as eloquent as it is, "She could run the bullet train on 38 Double D's" sure as hell wasn't. "Social Disease" is a fun and lively romp about love, sex, and maybe even a PSA about STD's: "You cant hide when infection starts…"
8) If I Was Your Mother, Keep The Faith (1992) – Possibly the oddest, most f'd up Bon Jovi song ever. If you don't listen closely you might miss the pussified lyrics because they're smothered by crunching rhythms and blistering guitars. BJ wonders "Tell me what I got to do, To make my life mean more to you, I could get so close it's true, If I was your mother." There are various rumors as to what the message to this song really is, but it just seems to me that Jon's singing about seeking a deeper, more elusive connection with a woman. Or maybe he's just being a pansy.
7) Hey God, These Days (1995) – An average guy with a family asks God why he's making life so tough for him. The music kicks into a tornado of desperation while the lyrics describe family problems, and financial troubles: "Hey God – Tell me what the hell is going on, Seems like all the good shit's gone" The most awesome aspect of this song is that Bon Jovi can still write songs from the perspective of the regular guy and still make them sound relatable, even though the band is worth millions.
6) In and Out of Love, 7800 Fahrenheit (1985) – I like blasting this one, and I don't know about you, but I'm a sucker for a good sexual euphemism. Like Jane Lynch motioning perversly with her bagel dog in Role Models, "Shes here to make my night complete."
5) 99 In The Shade, New Jersey (1988) in the category of carefree summer songs this one wipes the floor with Lost Highway's "Summertime." Remember when the band was young and had fun getting into some trouble and had trouble getting out of their spandex pants? Lines like "I got a party in my pocket cause you know I just got paid," indicated that the possibilities were limitless. The perfect song for looking at girls in bikinis on a sunny day at the Jersey Shore. In comparison, "Summertime" is reserved for the folks relaxing in their retirement community.
4) You Give Love a Bad Name, Slippery When Wet (1986) Just as he is in "Breakout," Jon is all tied up in those metaphorical chains again in this Jovi classic. I heeded their warning back in '86, girls promise you heaven, then put you through hell.
3) Wanted Dead or Alive, Slippery When Wet (1986) No other band or singer should ever think of covering the ULTIMATE Bon Jovi song, Chris Daughtry, this means YOU!
2) Roulette, Bon Jovi (1984) – The purest example of what Bon Jovi did best. The driving bassline is accentuated with a gambling analogy. Apparently, banging a woman who's in a relationship is comparable to placing bets on a roulette wheel. I'm placing all my money on the fact that she's actually a cheating whore. "You just keep on playin' when all the bets are down"
1) Raise Your Hands, Slippery When Wet (1986) – No, it's not the old Sure Deodorant commercial, it's the most kickass Bon Jovi song EVER MADE, just ask Lone Star and Barf. They had to buy new speakers for the space winnebago after cranking this one. If the heroes of Spaceballs can rock out to it, then it's good enough for you to BLAST in your super silly smart car. Fun fact from New Jersey to Tokyo: As the song fades out, listen closely for the shout out to Jon's hometown of Sayreville, NJ.