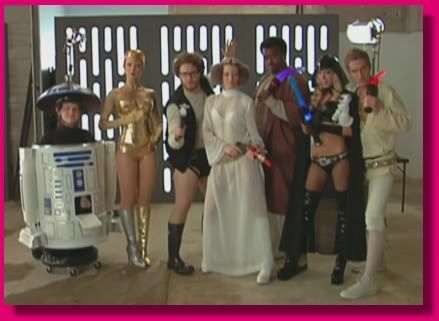 Kevin Smith's
Zack and Miri Make a Porno
is available today on DVD and Blu-Ray. I fought the treacherously slippery roads and 3-4 inches of snow and headed to Best Buy to pick up my copy. It doesn't matter what you've heard about this film, if you read The Sexy Armpit, and even somewhat enjoy it, then I'm positive you'll like this film. If for some insane reason you haven't seen it and still need to be convinced, see it for these reasons:
5)
Katie Morgan is nude
. Very nude. Oh and Traci Lords is C3PO! (see above)
4)
Craig Robinson is hysterical.
"Han Solo ain't never had no sex with Princess Leia in the Star War!"
3)
Elizabeth Banks is hot.
If you don't believe me…watch Wet Hot American Summer.
2) See what happens when
Brandon Routh (Superman) and Justin Long drink one too many cosmos
. Together they provide one of the most classic pieces of banter out of all of Kevin Smith's films. That's quite a remark considering such classic quotable competition from the likes of Clerks, Mallrats, and Chasing Amy.
1)
The moment depicted in the screen shot above
. They plan on making a Star Wars PORN! If you're sick and tired of the ridiculously delayed homage to Star Wars, 
Fanboys
, then these Star Wars porn scenes will more than tide you over.