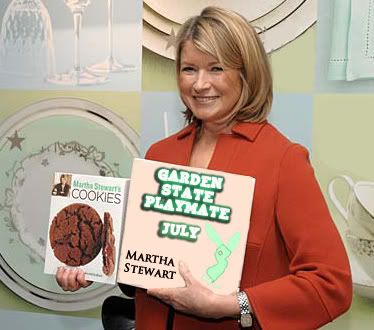 It was bound to happen. Many of you Sexy Armpit readers knew it was inevitable. It's finally time to give Nutley, New Jersey's Martha Stewart the nod. And I say, why the hell not? There's always room for GILFS on the illustrious list of Garden State Playmates.

Martha Stewart may have eclipsed Betty Crocker in popular culture. How often is someone you know cooking, or whipping something creative up in the kitchen and you comment "Wow, you're a real Martha Stewart!" It's pretty amazing when you realize she was born in Jersey City, NJ. and graduated Nutley High School.
After a stint modeling and graduating with a double major in history and architectural history, it wasn't until several years later that Stewart became the crafting, cooking, restoring, and media mogul who we love and/or hate today. Either way, I'm sure you'll have no problems scarfing down that gourmet meal she makes for you after she shows you several thousand ways of playing hide the sausage.
OK, OK, you got me. Here's the real reason why Martha Stewart whisked her way into becoming a GSP: