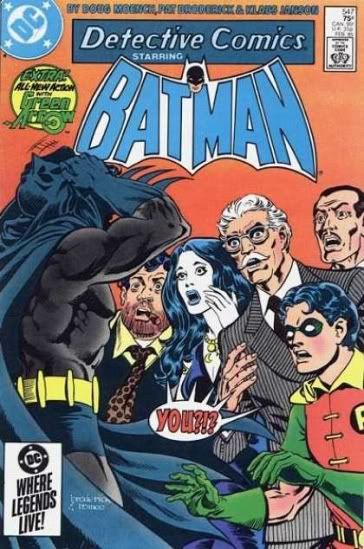 As part of my 4th
Nocturna Mission
, let's take a look at Detective Comics #547 from February, 1985. 
This issue's cover is yet another classic Batman comic book cover. The background color, even though faded in this scan, is very eye catching in contrast with the light blue and white Batman logo. The blood orange background color makes this issue seem like a great companion to the earlier installment,
Detective Comics #543
, which shares a similiar background color.
My curiosity surged as I wondered why Batman would be revealing his secret identity to Commissioner Gordon and Harvey Bullock. Even more of a conundrum was the gang's response of "You?!?"
Settle down kids
…It wasn't
Lance Bass
 under that cowl, but there
was
a Batman imposter like there's been many times before.
In this panel we learn that Nocturna has a penthouse. I can't help but make the adult magazine comparison and hope that one day Penthouse realizes the goldmine that is Cosplay. Get some hot skanky broads to dress up as some super hero chicks and villains. Perhaps one of them can be a certain ghostly white mistress of the night? Do it Bob! I SWARE you'll be seeing sales in the range of the Vanessa Williams issue.
"Finding Nocturna and Jason was a nasty surprise" Now, if that's not the kinkiest thing Batman's ever said! Here we see Nocturna cheating on Batman with that rotten, no good, weasly Jason Todd. They weren't just messing around either! That was some good ol' S&M they're getting into, they were bound and tied to chairs! I wonder how many seconds later "The Gimp" entered the room?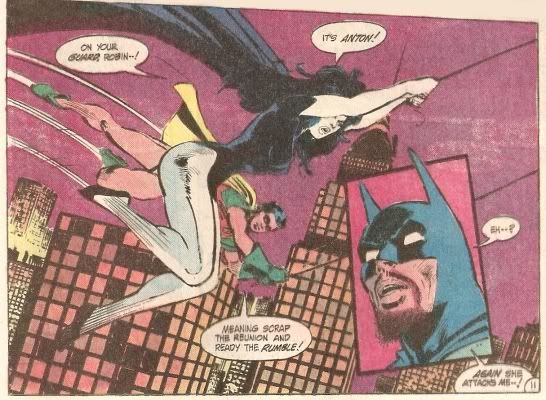 Oh Crap. You know it's the '80s when Batman's rocking a finely manicured goatee…oh wait…it's not really Batman, it's actually Anton Knight/
Night-Slayer,
Natalia Knight's bro. Natalia looks just as savvy as Batman and Robin on those grappling hooks, but her legs are way hotter. If you glance at this panel really fast it looks like Robin is out on patrol with Elvira. I could do without Nocturna's queer choice of ballet slippers though. 
According to this panel Batman apparently starred in some late '70s Blaxploitation films. That Batman is Baadasss! Either that or he's actually motivational speaker Tony Robbins when he was rockin' that insane goatee.  He encouraged it to grow and it did…and you can do the same! All you have to do is persevere. 
In the top left of this next panel, Nocturna's showing off her serious set of moves moves specifically the superkick or "sweet chin music," that she blatantly stole from Shawn Michaels. Better yet, this is action that should've showed up in the Mortal Kombat vs. DC Universe game if the game developers had any clue as to what the people
really
wanted:
If Nocturna was in that damn video game I would've bought it. If you've got some sort of code to make her magically appear, for the love of God please post it in the comments section. I'm sure many of you have already made her appear in the game taking on Kitana in a silky bathrobe wearing nothing underneath but a few dabs of that fancy fragrance
Coco Chanel
. I hear she doesn't leave her penthouse without putting it on, but between you and me, I'm fairly certain that she buys the knockoff bottle from the mall kiosk. She claims you can't tell the difference, but then again, she also wears cubic zirconia jewelery.
Whoa, whoa…"I know your every move intimately" ?? That's borderline Luke/Leia makeout scene. You know what they say in Gotham City,
nobody's more of a player than Nocturna's brother
Night-Slayer
! 
There she goes with the cheap costume jewelry again. Nocturna removes her plastic, yellow, star earring that she bought earlier that day at
Claire's
in the lower level of the Gotham Center Mall (right near the women's knockoff fragrance kiosk) and chucks it at her bro's chestplate. Now take that cowl off Anton, you look ridiculous!