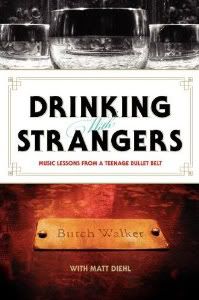 Maybe the cover of Butch Walker's new book should've depicted a name plate that reads BUTCH WALKER: ROCK AND  ROLL CHAMELEON. Who's Butch Walker, you ask? Really? Do I still have to explain that one? One way or another, chances are you know Butch Walker. He's reinvented himself more times than Madonna. He's gone from hairband member in Southgang, lead singer and guitarist in late '90s rock band Marvelous 3, an accomplished producer for the likes of Weezer, Katy Perry, Pink, and Avril Lavigne, to at the present moment, "just under the radar" indie rocker. If you're becoming acquainted with Butch Walker now, it will only take reading the 253 page Drinking with Strangers Music Lessons From a Teenage Bullet Belt, a book he wrote with Matt Diehl, to feel like you've known him forever.
Butch Walker's brief memoir does not recount explicitly epic rock star stories as printed in The Dirt or The Heroin Diaries. Perhaps Lifestyles of the Excessive and Eccentric is a more appropriate title for books about the lives of rock stars, but don't expect to read about week long benders from Butch, unless they involve songwriting. Occasionally he recalls messing around with a couple of girls, or drinking way too much, but it's not comparable to the exploits of Motley Crue. As much as he tries distancing himself from the hairband era, the best parts of the book turn out to be descriptions of random moments in his life, coincidentally with members of Motley Crue. For instance, the time he took a reckless helicopter excursion with his friend Tommy Lee. Walker even reveals a time he hung out with the Cruemaster himself, Nikki Sixx, and discovered just how over the top his lifestyle is. Walker's obsessive desire to be a better musician, songwriter, and producer has, for the most part, kept him from falling into the usual rock and roll indulgences.
Throughout the book, Butch reveals a number of stories, some embarrassing, others frustrating. His anecdotes were very real and not embellished like you'd expect from a 40 year old rocker. He brings up his chance meeting with one of his favorites, Elvis Costello, how the band Creed opened for him before they were big and almost put the crowd to sleep, and he also reflects humorously on the time he accidentally smoked crack. If that sounds oddball enough for you then I'd pull up a stool and have a drink with Butch. Oh, and there was even that time he made a gay slur while working with songwriter Desmond Child. He felt terrible, but assumed that "…he'd heard the same stupid thing out of New Jersey knuckleheads like Richie Sambora and Jon Bon Jovi, anyway."
My one main annoyance in the book was Walker's constant name dropping of Pink. We get it Butch, you're friends with Pink! Walker and Pink are friends and have worked together on music, but he tells us more about his relationship with Pink than anything about his actual wife and mother of his child, Nora. The most we learned about Nora is that she is a heavy sleeper. He rarely, if ever, gushed about his young son, although he did express how overwhelming it would be if he had lost them in the devastating wildfire that took his home California a few years back.
Even if Butch's career didn't go exactly the way he planned it, he's never given up. He's now considered a true songwriter and musician and it's taken over 20 years of hard work to gain that recognition. Aspiring musicians should use this book as a guide; it may change how they approach their career. Walker points out that if you can attain just enough success it will provide the ability to be creatively free, independent, and even financially secure enough to avoid kowtowing to major label bullshit. It seems to me that Butch should be more appreciative of his first taste of success – the hairband days, but he's way too in love with the present moment to waste time looking back.