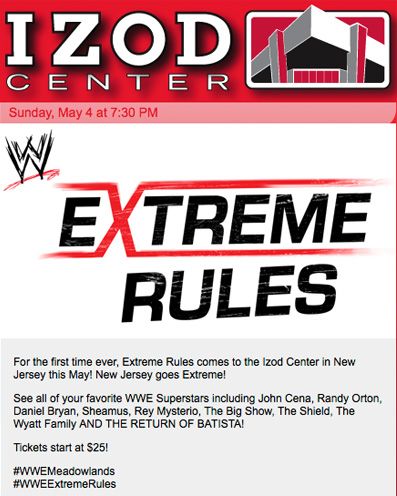 Tickets on sale Saturday 2/22 at 10:00 AM
It's been the mission of every crowd at televised WWE events to try to one-up the rowdy RAW audience following Wrestlemania 29. Not only was that the same night that The Sexy Armpit's article was shown on RAW, but it also reminded the crowd that they hold the power. After all, we are the fans and we're the people keeping the WWE in business.
The 2014 Royal Rumble crowd last month was formidable, but people are still talking about the rambunctious crowd at IZOD. At least we're good for something here in Jersey. Loud and obnoxious is in our DNA. The big question is, with the Extreme Rules Pay Per View coming to IZOD Center on May 4th, 2014, is WWE trying to make lightning strike twice? WWE sure as hell likes to go back to the same well pretty often. Look at sequel matches like HBK/Razor in the Ladder Match 2, and even most recently, Rock/Cena 2, why not IZOD CROWD 2?
Extreme Rules is one of the few of the "filler events" as I refer to them meaning anything not the big 4 that I actually enjoy. There's usually some exciting and often insane stuff going on in the matches, but is Batista really their big selling point for this event? This guy gets ALL CAPS? Personally, I really hope the whole CM Punk thing is a big work. The WWE isn't the same without him. One thing is for sure, Extreme Rules will need to be a superior show to make up for his absence.
Extreme Rules will be available on the new WWE Network and also Pay Per View. Until the option of ordering the event through your cable company ceases to exist, the term Pay Per View will remain, but it's already becoming antiquated with the Network subscription model. Extreme Rules will eventually just become an "event." Can the crowd in East Rutherford make it into a truly memorable one? That will be determined on May 4th!