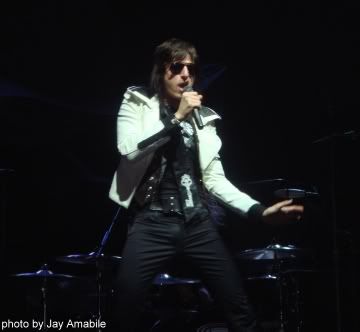 Chad Cherry, lead singer of the Last Vegas
On Friday Night March 6th, at the Borgata in Atlantic City NJ, the Last Vegas from Chicago easily upstaged Theory of a Deadman and Hinder. I could've left after the Last Vegas, that's how good their performance was. I felt so revved up and satisfied; it was exactly how one should feel after seeing a kickass rock band live. The headliners, Motley Crue, were still to come! Waiting through the next two bands wasn't easy. 
Tyler Connolly, lead singer from Theory of a Deadman
With only a few above average songs, Theory of a Deadman was passable. They seem to play by the book with no shenanigans. I always considered them a much cooler version of Nickleback. No offense to the legions of Nickleback fans, but perhaps you should make the switch? You went from Starbucks to Dunkin' Donuts, Myspace to Facebook, so how about Nickleback to Theory of a Deadman?
The climate in rock music for the past few years seems to be fueled by '80s rock, which makes sense. Considering the rock music that was immensely popular when these newer bands moving up the ranks were growing up, they most likely were listening to stuff like Warrant and Slaughter. **Rob Mason has hopefully saved Warrant from Jani Lane's tarnished rep. I don't care what you say, "Down Boys" is phenomenal.
When Austin Winkler asked the audience to yell "Up All Night" I was certain that a cover of Slaughter's "Up All Night" was to follow. I'm sure there's 50 other songs in existence with the same title, but when I hear it, I think of Slaughter's. Unfortunately, Hinder's song "Up All Night," is completely unrelated to Slaughter's and not a quarter as good. 
Hinder's heart is in the right place, but their attempt at capturing the party rock type atmosphere of the '80s era ultimately fails, for me at least. For fraternities around the country, Hinder's a huge WIN. To say that I don't like their music wouldn't be totally accurate, since they did perform one or two songs that I thoroughly enjoyed. But judging by their lax performance, they seem to show signs that they've already been bestowed a "best band award." These guys scored a hit, had
Emanuele Chriqui
in their video, and now they've feel like they've "made it?" Give me a break! You're still FNG's as far as I'm concerned. Take some pointers from the Last Vegas and Buckcherry. If I ever have kids, will they reach their 30s and be going to see opening acts who were inspired by bands like Fall Out Boy and Tokio Hotel? Oh that's so sad. 
And now for an exlusive peek into the contents of my personal letter to Austin Winkler, lead singer of Hinder: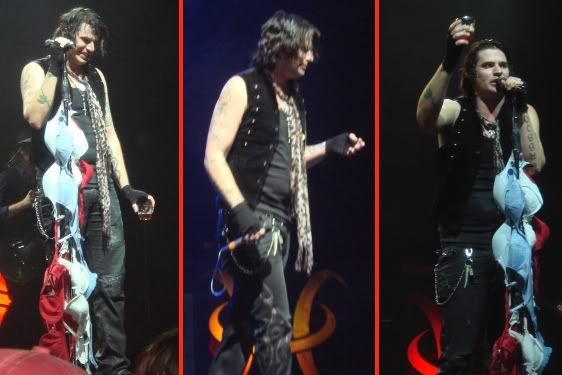 Dear Mr. Winkler,

You're clearly seeing the effects of the rock and roll lifestyle. Singing all those mindless songs about drinking, and getting stoned (i.e "Get Stoned") will take it's toll. Life imitates art as they say. Unless you're in the gym constantly "working on your fitness," then you're going to get a nice big beer gut. Oh what do you know, you already have one! oops. I couldn't stop thinking that if Peter Delouise played a washed up, drunken rock star, who sported a bob haircut in a real life biopic on the Lifetime channel, it might be about you. Put the beer down, step away from the Nascar race on your 70 inch LCD, and get your ass to the gym.

You need to work hard to connect with the audience. Humble yourself. Remember, you are opening for MOTLEY CRUE. You are eons away from ever being as big as the legendary Motley Crue. Be mindful that many of the people in the audience have no idea who you are. Plenty of fans of '80s rock swore off listening to new music when grunge rolled around. It's your job to win them back! Stop writing generic, '80s style music. Show us why you're not just a bunch of guys who "thought it would be cool to be in a band."
Lucky for us, there's bands out there like the Last Vegas who really "get it." They grabbed my attention forcefully and didn't let go their entire set. The Last Vegas was rocking our buts off way before they won the Guitar Center On Stage contest. After seeing them live it's obvious why they've captured the opening spot on Crue Fest this year. The band plays energized, dirty, old school rock and roll. They've got some ACDC thump, and a little GNR swagger.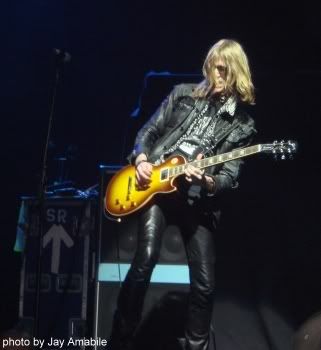 Guitarist Adam Arling of the Last Vegas
Frontman Chad Cherry is the real deal. He exudes rock and roll and never for a moment looks like a wannabe as he struts and jumps all over the stage. Cherry's strong voice is the center of attention. There were moments when his voice recalled Tom Kiefer's of Cinderella. 
Bassist Nikki Sixx of Motley Crue
Motley seemed to be having sound problems during their performance. Nikki and Vince kept looking over to the sound guys and giving the "UP" signs. It was basically the same set as their show at PNC Bank Arts Center in the summer. You can watch 2 videos I shot from that show on The Sexy Armpit Youtube page. Motley added "Jailhouse Rock" and "White Trash Circus" into their set. 
Conspicuous by it's absence was Tommy's Titty Cam. Instead, he handed out his bottle of Jaeger, and told everyone to take a sip and pass it back. Nice of you to share Tommy, but who the hell wants to drink out of a bottle that 10 people have already taken swigs from? That's nasty. I don't even drink the wine in church! The bottle got confiscated by security anyway, probably so the guard could bring the bottle home and sell it on ebay…douchebag. At that point Tommy went into how thankful he was for some stuff, and how we should all be thankful and blah blah, and then stepped back over to his kit. Where did Motley go? 
There's always a bunch of young kids in the audience at recent Crue shows. Damn
Guitar Hero
and
Rock Band
for making raunchy rock and roll a family affair. Did the people at the Borgata warn the band ahead of time that they couldn't do the Titty cam? Most likely, but that was the least of my worries. I was more amused by Vince Neil who thinks that Crue song lyrics are interchangeable and should be sang anywhere from 1-5 seconds later than they are supposed to be. Ahh, it was still Crue, and it still rocked, so the rest doesn't really matter now does it?
One band, Endeverafter, would've been perfect for this show. They're definitely one of my favorite rock bands so check them out if you've never heard of them!
Endeverafter.com