The following story was actually written by The Sexy Armpit's Mom! It's a true story, and I'm posting it "for all you lovers out there." There are people who get married and divorce a year or 2 later. What they may not realize is that relationships are hard work and if you can put up with the kind of crap my Mom did, then you'll be OK! Does true love exist? Help us Mommy Armpit, you're our only hope!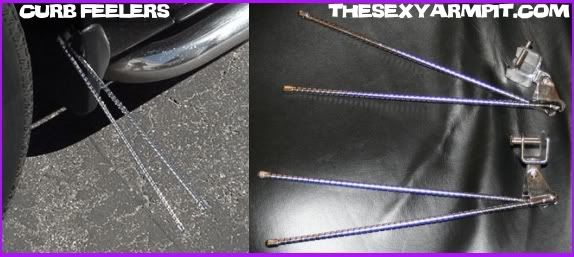 My husband and I will be married 40 years this coming October. When we were first married, we always spoke about how we would try very hard to save money so we could purchase our first home together. Our first anniversary came and we tried our best not to think of the cost of things and shared a romantic dinner in a lovely restaurant.  Shortly after that, we purchased our first home, a little townhouse.  We were so excited about being homeowners!  All we thought of were the different "projects" we would tackle every weekend. We decorated, fixed, and painted, in order to make our home a warm and cozy place. 
As our 3rd anniversary approached, we were still changing things around the house, however the focus was on the "
newer
car" we purchased. It was a black Caprice with 
wide white-wall
tires. (Hey, it was the '70s!) My husband washed and polished it as often as he could.  Saturday afternoons were spent making the car and those beautiful wide white wall tires just shine & glisten! My husband took the train to his office every day, and
I
was the lucky one to drive the sparkling black car with the
w i d e
white walls. 
Unfortunately, every time I pulled up to the curb to park the car, I scraped the pearly, pristine, white walls. After several months of scrubbing the tires clean, my husband decided that he would buy me the best gift of all time for
Valentines Day
. I opened the package, which was wrapped in red paper with a big bow, and looked at him and said, "So this is my Valentines Gift? What is it??" 
"Why, they are curb-feelers!" he replied with great enthusiasm. "You must know what they are?" "No," I said. I have no idea." "The next time you pull up to the curb to park, you'll hear them make a sound against the curb so you won't scuff up the white walls anymore!" my husband expounded gleefully. I'm sure, I was supposed to react differently, but my face dropped to the floor! He really thought this was truly the most practical gift since we were always trying to save a dollar for the next "project" in our love nest, but in my heart I just knew that he would have another gift for me.  
The following day, as I returned from work and the curb-feelers were in place, my husband asked, "How did you do today parking the car? How were the curb feelers?" "Oh they are just great honey, don't know how I managed without them all these months!" As the winter months passed and spring arrived, I somehow forgot about the silly curb-feelers. He was happy every time he washed the car because the white walls weren't scraped up.
Then, on an average day with no occasion, my husband surprised me by bringing me into the city for a lovely day. We went out to dinner and he even had theater tickets! As I think back on almost 40 years, all the good times and bad times, I think to myself, I should have never gotten so upset over those silly curb feelers. I'm not even sure if they can even be found today…maybe they are still on that beautiful black shiny '72 Caprice in the sky!