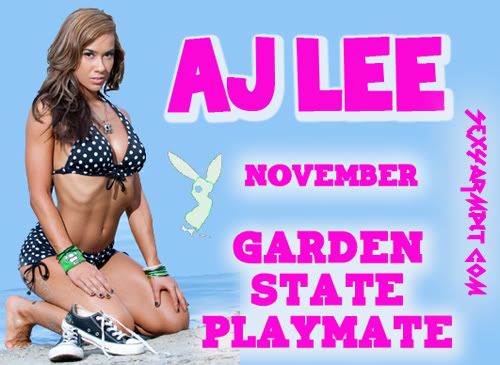 "Growing up this New Jersey native faced multiple hardships, overcoming extreme poverty and even homelessness. But through it all, she never lost sight of her lifelong goal to thrive as a Diva in WWE." 
In a strange twist, November's Garden State Playmate was actually once known as Miss April early in her career. Some personalities in pro wrestling wind up changing their names more than they change their ring attire, but in AJ Lee's case it has only signified her ascent to stardom. For those WWE fans out there you know her simply as A.J, the cute and energetic diva from Union City, New Jersey.
Unlike many of the WWE Divas who have won contests or were simply models plucked off a magazine page, AJ has worked hard to climb the pro wrestling ladder. As Miss April she started out in New Jersey's female indy promotion, WSU. Not too long after that she signed with Florida Championship Wrestling, WWE's developmental company. From there, now known as A.J, she made it to WWE's NXT show and presently she can be seen on Friday Night Smackdown in tag team action as The Chickbusters with fellow Diva, Kaitlyn.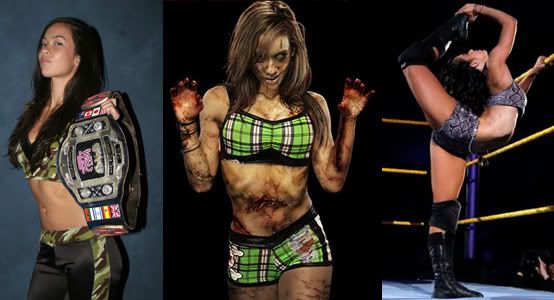 AJ, a Pisces, is constantly described as a comic book and video game lover. She was trained by her ex boyfriend, a Sexy Armpit favorite, New Jersey's own Jay Lethal! Her fast, high flying style is "inspired by the likes of Rey Mysterio, Macho Man Randy Savage, and WWE Hall of Famer Ricky The Dragon Steamboat…" according to her bio on WWE.com. I'm sure you'll be seeing and hearing a lot more from AJ as WWE seems to be working her into bigger storylines. On a recent episode of Smackdown it was hinted that her character may have a thing for another indy favorite who made it big, Daniel Bryan.