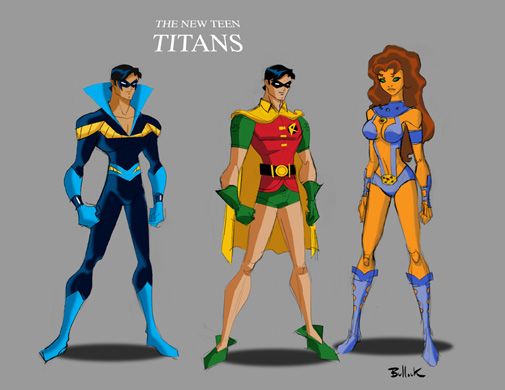 My love of silly puns has has inspired me to bring you a new column here at The Sexy Armpit. All comic book related stuff will now be found under this heading. We'll take a look at new comic books, comic artists, and the like, but it will somehow connects to Jersey, even in a roundabout way.
In this post we'll take a look at some artwork by NJ artist and animation director Dave Bullock. Bullock's old school style evokes images of comics from the '40s and '50s and blends it with a modern sheen to infuse his characters with a look that is original and refreshing.
As we take a look at Bullock's artwork, his versatility is apparent. I'm sitting here drooling over all of these. The New Teen Titans piece posted above would make an amazing animated series. He captures the '80s era of the group so well, but yet still makes it look like an extremely viable possibility for a new show. I could also easily see his version of Batman above showing up in the same series.
Bullock's illustrious professional career includes serving as director on the DC Animated movie Justice League the New Frontier and several episodes of the Spectacular Spider Man. He's also worked in the Art and Animation department on more shows than you'll ever be able to watch in your whole lifetime. Some of the shows that Bullock has worked on are a fan boys wet dream across the board: Transformers, Hulk, Superman, Batman, X-Men, Masters of the Universe, Kim Possible, Wonder Woman, The Avengers, and one of my personal favorites Sym-Bionic Titan.
I'm not sure of his exact personal influences as an artist, but I do see a lot of Will Eisner and even hints of Steve Rude. Maybe one day we'll get to speak to Dave about his amazing body of work. Presently Bullock is working on a project for Hasbro, but it's under wraps. What's more amazing is that this dude signs his stuff for free if you meet him at a convention! He often makes appearances, so you can keep up with his schedule at his blog FAR-OUT FICTION, which also details the development of his new original graphic novel called The Savage Blade of King Ronok, which looks friggin' awesome.